Special Events
WE ARE IN!! We have been selected to be a part of something BIG!
GIVE BIG GREEN BAY 2023!! 
This online giving event provides nonprofits, like us, with a platform to tell our story and encourages contributions of any amount to make a BIG difference in Brown County.
We do have an incredible story to tell and are so thankful for The Green Bay Packers Foundation and Greater Green Bay Community Foundation for choosing us!! Please consider showing your support on February 21 and 22nd!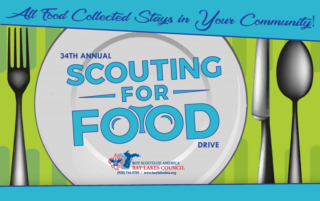 This generous "Scouting for Food" food drive is hosted by the Bay-Lakes Council Boy Scouts every spring with the proceeds going to area food pantries.